This post is also available in: Croatian
GASTRONOMY OF SPLIT-DALMATIA COUNTY – AN INTERSECTION OF CULINARY CULTURES FROM ALL OVER THE WORLD!
WHAT WOULD YOU SAY about a cuisine that combines sweet and sour, Greek and Roman, Byzantine and Venetian, all linked by a truly special ingredient – a quantum of stubborn, originally Dalmatian spite? Dalmatian cuisine will spoil your palates with homemade prosciutto and cheese, traditional fish stew (brodet) and thick fish soups, risottos and gnocchi seasoned with tasty dips, sea food stews; all rounded up with homemade olive oil, Mediterranean aromatic herbs and matched with wide range of exquisite homemade wines. If you want to give your palates a true adventure, it's high time to taste these sensual dishes – true gastronomic ambassadors of Dalmatian cuisine!
A QUEEN CALLED PAŠTICADA. A true example of sweet-sour dish (see how Dalmatian cuisine is always a blend of extremes of some sort, unmatched by anyone?) is luxurious pašticada, gastro heritage of Venetia ad Byzantium, made even today for special occasions (due to its complex preparation) of beef aitchbone in wine, prosecco, vinegar, spices and vegetables. It is often accompanied by homemade gnocchi. Pašticada is so characteristic for this region that almost every household has its own way of preparing it; and it shares the throne with exquisite fish or meat dishes made under the baking lid! Namely, if you haven't tried veal, lamb or octopus under the iron lid, which enables food to be cooked and roasted at the same time, from a gastronomic point of view, you haven't even been to Dalmatia, so do not miss it! If you visit the islands, let the magic of small family restaurants overwhelms you.
There, apart form aforementioned Dalmatian classics, you can indulge in carefully prepared specialties like mutton baked on a juniper spear, which stimulates with resin wood aroma, or for example – crunchy vitalac – ancient dish made of lamb offal served in the "lamb capital", the island of Brač, which is also a gastro connection to Greeks. Of course, if you prefer somewhat more modern gastronomic interpretations, there is a wide choice of modern gourmet oases – make yourself infatuated with octopus stew or burgers, monkfish medallions, cuttlefish with broad beans, shrimps carpaccio with olive dust and fig pearls, or an entire pot of shells, shrimps and pasta!

WINES WITH CHARACTER. True gastronomads and wine enthusiasts could draw you a map of Split-Dalmatia County in a second – according to areas where the best autochthonous wines are made! It's a common knowledge for all who ever tried Kaštela's crljenak – the darkest of all Dalmatia wines, or bogdanuša and plavac from Hvar and vugava from Vis – that in an elegant glass of wine one can discover a whole new world! With its classy barrique touch and mild tastes of blackberry, blueberry and cherry crljenak will most certainly comply with those in favor of fruity, bold wines. Although it was tied to Italian primitivo and Californian zinfandel, it has nothing of their sweetness and softness, it is a true – wine with a character!
Even Vienna Court could not resist Hvar's bogdanuša, which was served only for holidays due to its elegance; while Vis' vugava overwhelms with discrete aromas of peach, almond and orange! If you prefer red wines, enjoy in full, rounded, delicate woody taste of Hvar's plavac mali, captivating like a nicely dressed girl walking along Hvar's waterfront!
SOMETHING SWEET FOR THE END. What kind of a meal would it be without a good, tasty dessert? Beautiful rožata dates back to Venetian times, and it was considered a pride of Dalmatian desserts! It is cooked in a caramel coat, while a magic addition to a simple recipe that contains milk, eggs, vanilla and sugar is a scented rose liqueur! Split Cake will enchant you with rhapsodies of figs, almonds, walnuts, dates, raisins and rum, and eager Dalmatian housewives discovered that the dough and cream are made of even 10 eggs!
Simple and delicious paradižet is made throughout Dalmatia, just as omnipresent fritule, kroštule and doughnuts, most commonly served in Dalmatian hinterland. Islands have their own trumps as well, just look at the list of Croatian intangible heritage goods and you will find there Dol's hrapošćuša cake resembling the very Brač's karst and famous Starigrad's paprenjak! Combine them with a few drops of tempting lavender or carob liqueurs and you have finalized one great (and very tasty!) Dalmatian adventure!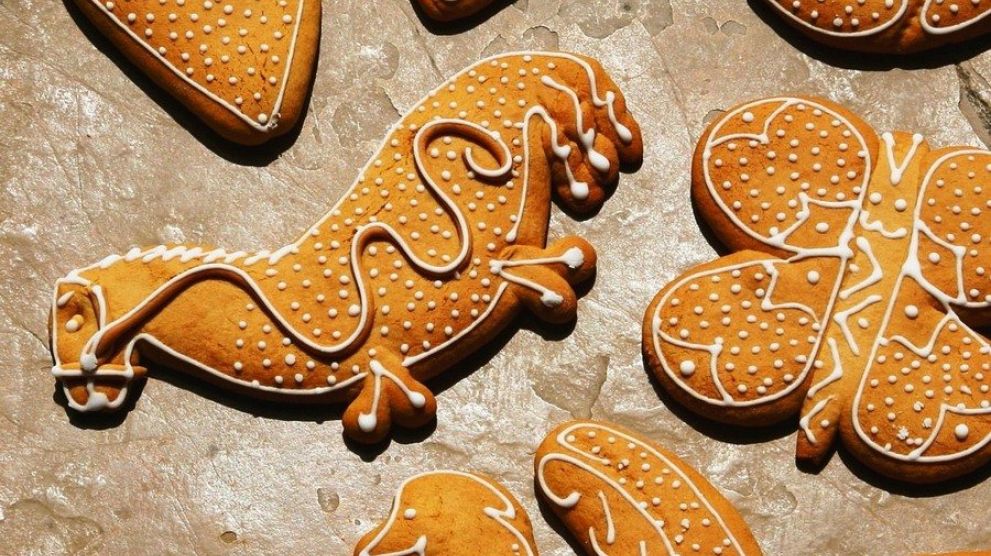 Foto: dalmatia.hr
This post is also available in: Croatian